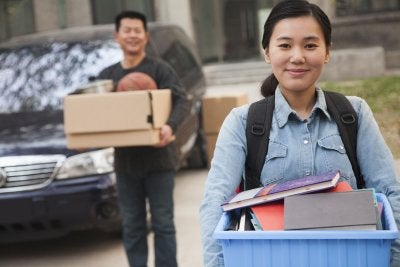 In college dorms, storage options are few and far between. If your child is going to a college far away and won't be able to come home frequently to visit (and do laundry), then he or she will need to bring more stuff than the local college kids. Ahead of the move-in date, research options for student storage units in Mountain View. Renting a small, temporary storage unit for your child will minimize future frustration, as your child won't have to ask you to mail out packages of his or her stuff every few weeks.
Do limit your involvement in the packing process.
College is an exciting, giant step toward independence for your child. As tempting as it is to do everything for him or her, your child needs the opportunity to learn from mistakes. However, you can teach by example. Have your child call the appropriate office on campus to ask about rules regarding what can and can't be taken to the residence halls. If your child has trouble with organization, sit down with him or her and develop a master list of things to pack . Sort the list into categories, such as clothing, bedding, personal care items, electronics, school supplies, and kitchen items.
Don't hesitate to toss basic first aid items in a suitcase.
Even a well-organized teenager might not think to pack basic first aid items. Give your child the following items:
Over-the-counter pain relievers/fever reducers
Band-Aids
Antibiotic ointment
Hydrogen peroxide
Cold pack
If your child takes prescription medications or uses an inhaler for asthma, he or she should have extras on hand. Make sure the closest pharmacy to the campus has your child's prescriptions and health insurance information on file.
Do have your child get in touch with the roommate.
It isn't necessary to furnish dorm rooms—they already have beds, dressers, and desks. However, there are a few larger items your child may want, such as a mini fridge, microwave, and TV. Have your child call the new roommate to find out if he or she was already planning on bringing these items. There won't be enough space for duplicates. It's common for campuses to connect students to rental services for mini fridges, many of which are combination units that also have an attached microwave. Your child and the roommate could rent a unit together.